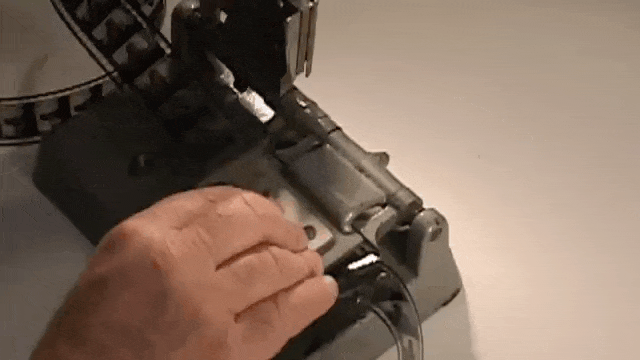 Verna Fields made many good contributions to Jaws.

We had a contest where Verna would stop the Moviola on a frame where she wanted to make the cut and I would stop it where I wanted to make the cut.

And if ever we stopped it on the same frame, that had already been marked with a grease pencil X, we knew that was the right frame - on certain things where we didn't agree.

And all of our disagreements always happened with that darn shark.

Verna was always in favour of making 'less to be more', and I was trying to squeeze in that one more frame because it took me days to get that one shot...

So I'm going back to - I'm on a barge for two days trying to get the Shark to look real - and the sad fact was this shark would only look real in 36 frames not 38 frames.

And that two frame difference was the difference between something really scary and something that looked like a great white floating turd.



— Steven Spielberg, Director
Two frames, that's where the magic of movie editing lies, according to this quote from Steven Spielberg talking about 'Mother Cutter*' Verna Fields' work on the original blockbuster, Jaws.
The quote is taken from feature length documentary, The Cutting Edge - The Magic of Movie Editing, which sees an incredible line up of editors and directors discussing the history, evolution, rules and rule breaking of the craft, including:
Editors: Walter Murch, Thelma Schoonmaker, Michael Kahn, Michael Tronick, Mark Goldblatt, Anthony Gibbs, Zach Staenberg, Sally Menke, Richard Marks, Dylan Tichenor, Carol Littleton, Tom Rolf, Pietro Scalia, Alan Heim, Tina Hirsch, Frank J. Urioste, Lynzee Klingman, Jay Cassidy, Richard Chew, Dede Allen, Paul Hirsch, Anne V. Coates, Joe Hutshing, Chris Lebenzon...
Directors: Quentin Tarantino, James Cameron, Martin Scorcese, Jodie Foster, Anthony Minghella, Sean Penn, Ridley Scott, Alexander Payne, Kevin Tent, Wes Craven, George Lucas, Lawrence Kasdan, Rob Coen, Paul Verhoven, Chris Columbus, Jan de Bont, Jerry Bruckheimer...
Type in any of the names from the first list into IMDB and you'll get lost down a rabbit hole of "Wow, they cut that? I love that film!" epiphanies.
Regardless of how long you've been in this business, taking the time to sit down and watch this documentary (maybe for the second time) will certainly inform, inspire and entertain you.
*Her nickname due to her down to earth nature.
The rest of this post is for paying subscribers only. When you're ready to learn more, sign up to read this and every other issue of Cut/daily!