#065 - How to Duplicate Without Error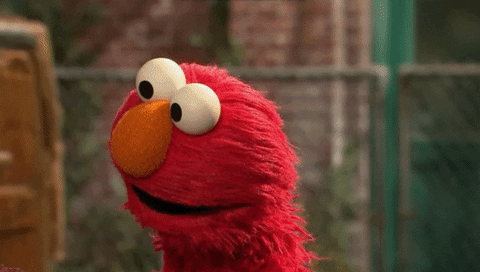 We've all been there.
You're editing away and about to make major changes.
You decide to duplicate the sequence. Rename it V2 or whatever and crack on.
Only to discover (hopefully) that you've been working in the wrong one all along.
(sigh)
There must be a better way?
Guess what - there is!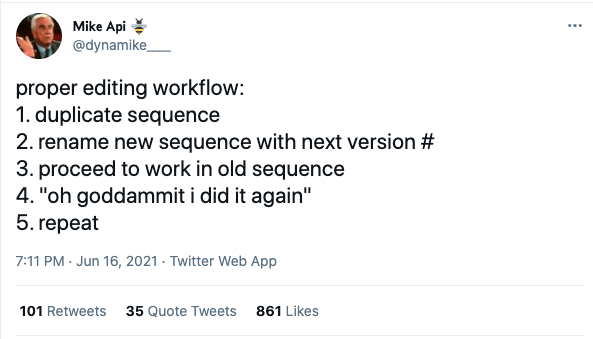 This tweet from editor Mike Api got a "me too" responses precisely because we've all done it.
Many times.
But it also elicited some really helpful tips and tricks for combatting this frustrating and sometimes disastrous problem.
How to Duplicate without error in Avid Media Composer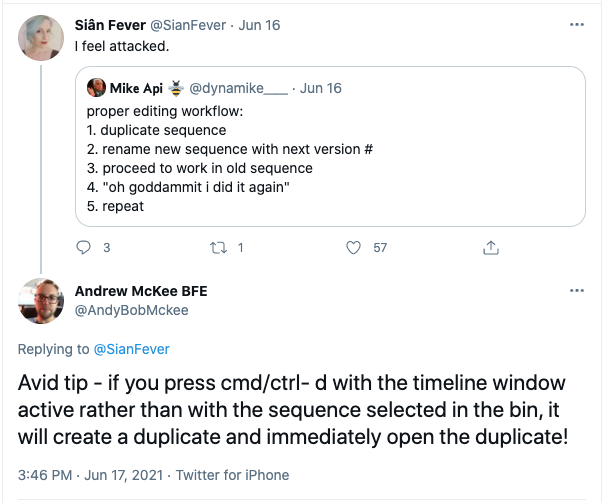 Editor Andrew McKee BFE shared this useful tip for Avid Editors which will at least allow you to be sure you're working in the correct sequence, although you will have that copy.01 suffix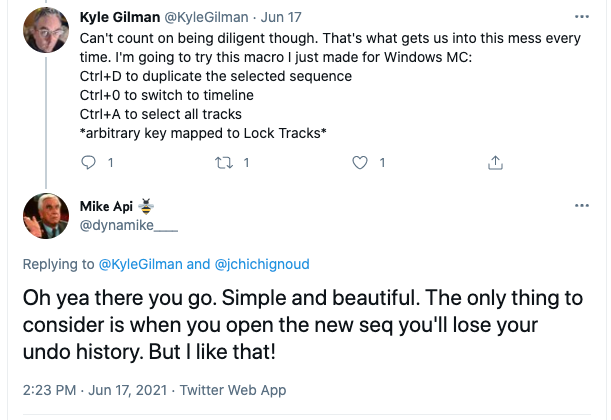 Going a step further editors Mike Api and Kyle Gilman worked out this clever macro based solution, which you will need something like a Stream Deck or a software-based macro tool to activate.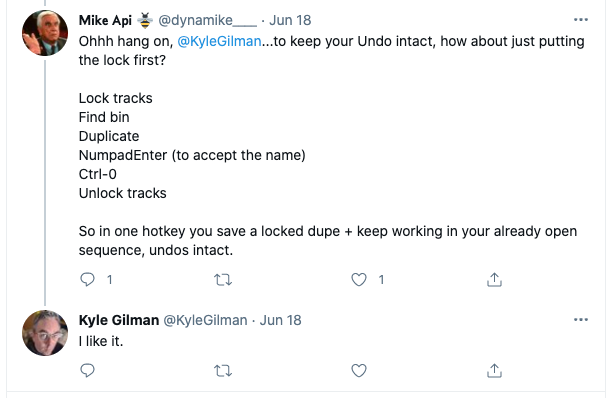 How to Duplicate without error in Adobe Premiere Pro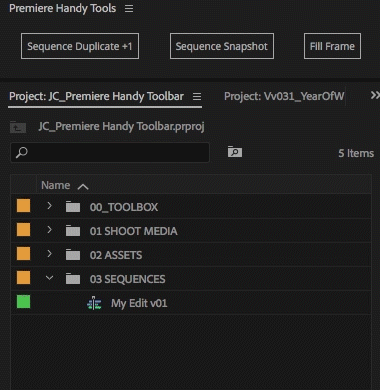 Editor and colorist Julien Chichignoud shared his excellent, and free, solution to this problem with his Sequence Duplicate +1 handy tool.
It's a free Adobe Premiere Pro extension that will duplicate a sequence, increase the version number, close the old sequence and then activate the new sequence.
All with one click.
You can download it from Julien's Github page here and read through the detailed installation instructions too.
Here are some essentials things to know:
Load sequence in Timeline (needs to be active, it won't work with a selected sequence in the Project Browser because of API limitations)
Press "Duplicate Sequence +1" button
Name of the sequence should end with a number, which will be automatically incremented, otherwise " v2" will be added to the end
Original sequence will be placed in a sub-bin called "_OLD", which will be created if it doesn't exist
New sequence becomes active
[NEW] Old sequence is locked and closed (Premiere 2019 only)
How to Duplicate without error in FCPX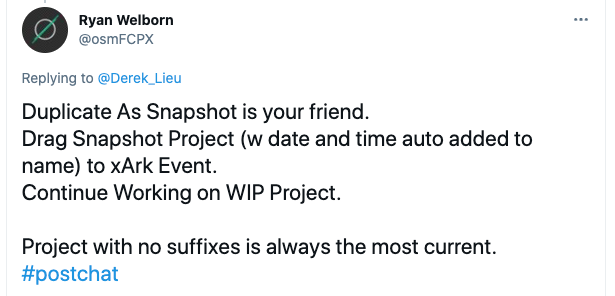 Editor Ryan Welborn recommended leveraging FCPX's duplicate as snapshot functionality, (SHIFT+CMD+D) which will create a time-stamped version of the Project (sequence) - which won't be effected by further changes to included compound or multi-cam parent clips.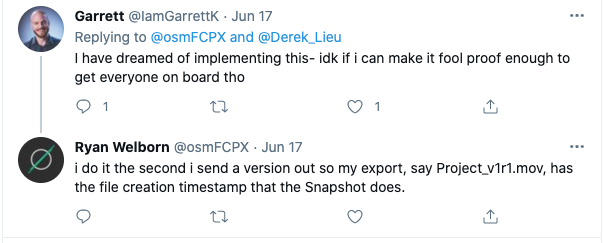 Ryan shared this quick tip demonstrating having an Event called Archive (xARK for short) at the bottom of your Library and moving your snapshots, post review export, into it.
Quick Snapshot Tip
Mark Spencer from Ripple Training has a useful tip and cautionary note about creating snapshots in FCPX which will take 2 minutes of your time.
---
So remember, Cut and duplicate daily.