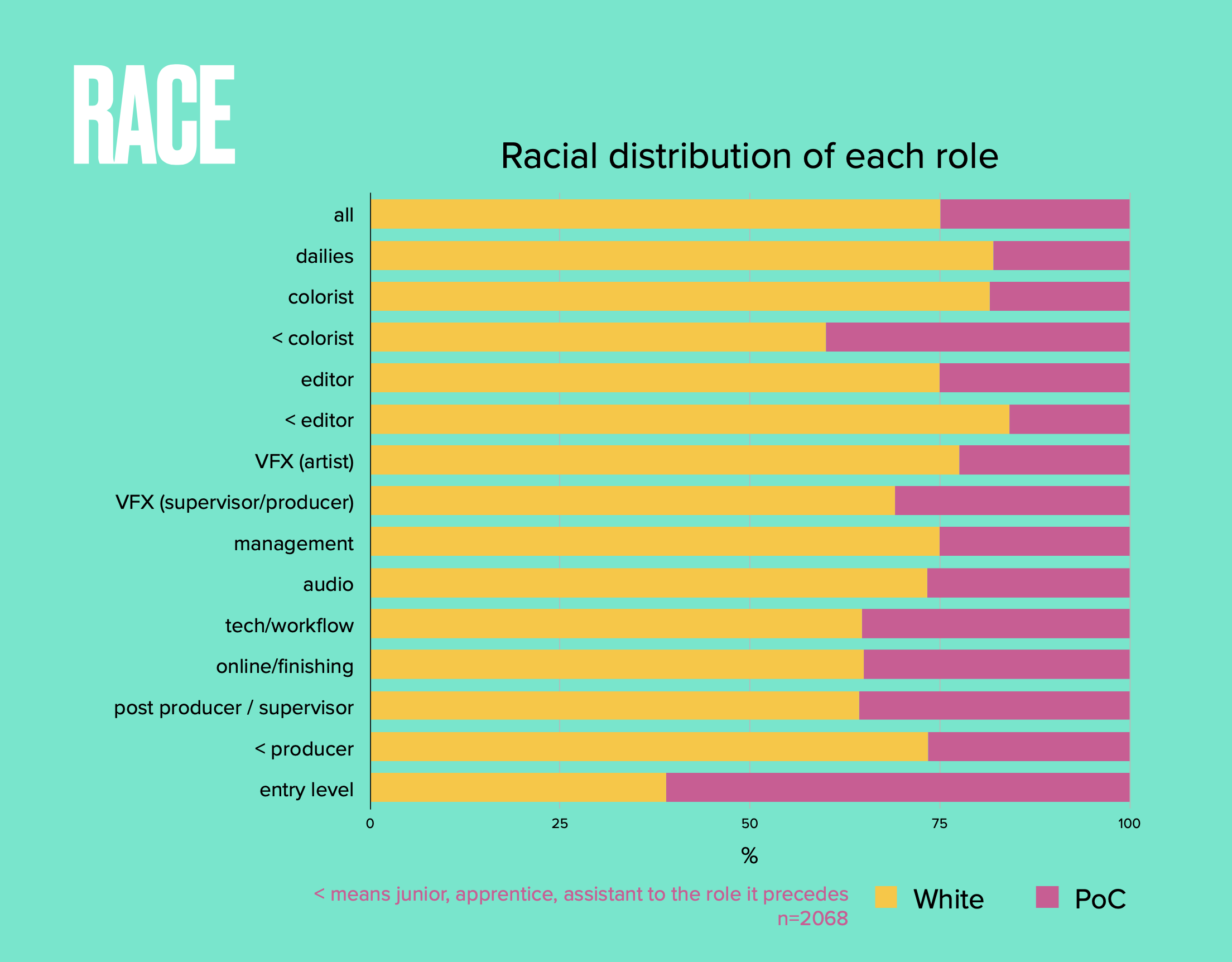 If you don't see anyone like you,
you don't think it's for you.


— Daniel K. Hunter, Post In Black
After colour grading, editorial is one of the least racially diverse departments of Post Production, according to Katie Hinsen's 2021 Blue Collar Post Collective US industry survey.
But some folks are out to try to change that, both through representation and through, you know, actually hiring People of Colour.
In this issue of Cut/daily we'll take a look at both of these endeavours, as I hope it helps you to see and embrace the future that we all want to build - a more diverse one!
BCPC US Industry Survey Results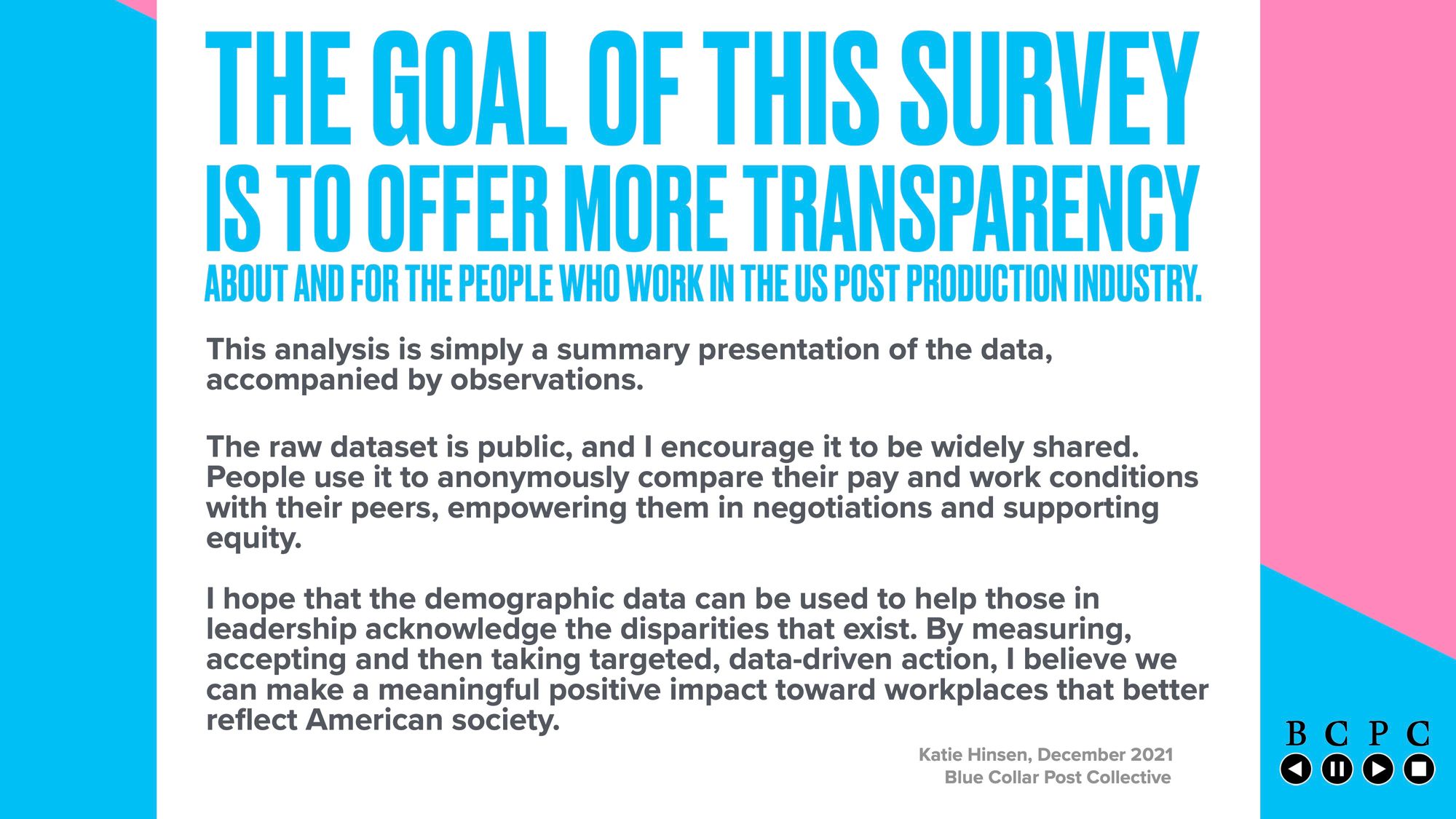 For the past six years, Katie Hinsen has orchestrated "the largest and most extensive survey of post-production professionals that exists", which while, for practical reasons, it focuses on the US industry, it no doubt helps to illuminate a similar (or worse) state of affairs in other countries too.
You can read through the beautifully presented summary of findings here, or download and interrogate the complete dataset yourself (as I did in 2020).
The report highlights some of the racial, gender and financial disparity within the industry, including stats such as: Men in Post Production made 19.2% more than their female colleagues - although editorial actually faired better than other departments in this regard.
It is well worth a read!
📈
Need to transform data into compelling visuals?
MotionArray.com, sponsors of Cut/daily this month, have excellent animated infographic templates,
like this one
, you can use today.
Post In Black - Interviews with Post Professionals
Post In Black is an interview series dedicated to showcasing the skills, journeys and stories of black post-production professionals across the industry.
Started by Daniel K. Hunter as a blog a decade ago and now a video interview series Post In Black is the fulfilment of a personal goal:
I was working as a sound editor and sound designer, just getting started - I was 21 years old - and I was fortunate to get the opportunity to go on these studio lots and to actually get first-hand experience seeing big budget studio productions being finished in post-production.

And I didn't see a lot of diversity to be honest, I was I was pretty surprised because you know entertainment is quite diverse, but the technical roles back then, this was you know 10 years ago, and still to this day aren't very diverse and so I wanted to do something.

But I didn't know what to do and I thought about how often times if you don't see anyone like you you don't think it's for you.



— Daniel K. Hunter, Founder - Post In Black
Season 2 features a wide variety of really interesting guests including editor Terilyn Shropshire (The Old Guard, When They See Us), VFX Artist and Animator Ruel Smith (Black Panther) and Assistant Editor Paul Alderman (House of Cards, Gone Girl, Selma, A Wrinkle in Time).
Subscribe and enjoy:
Black in Post - Get Hired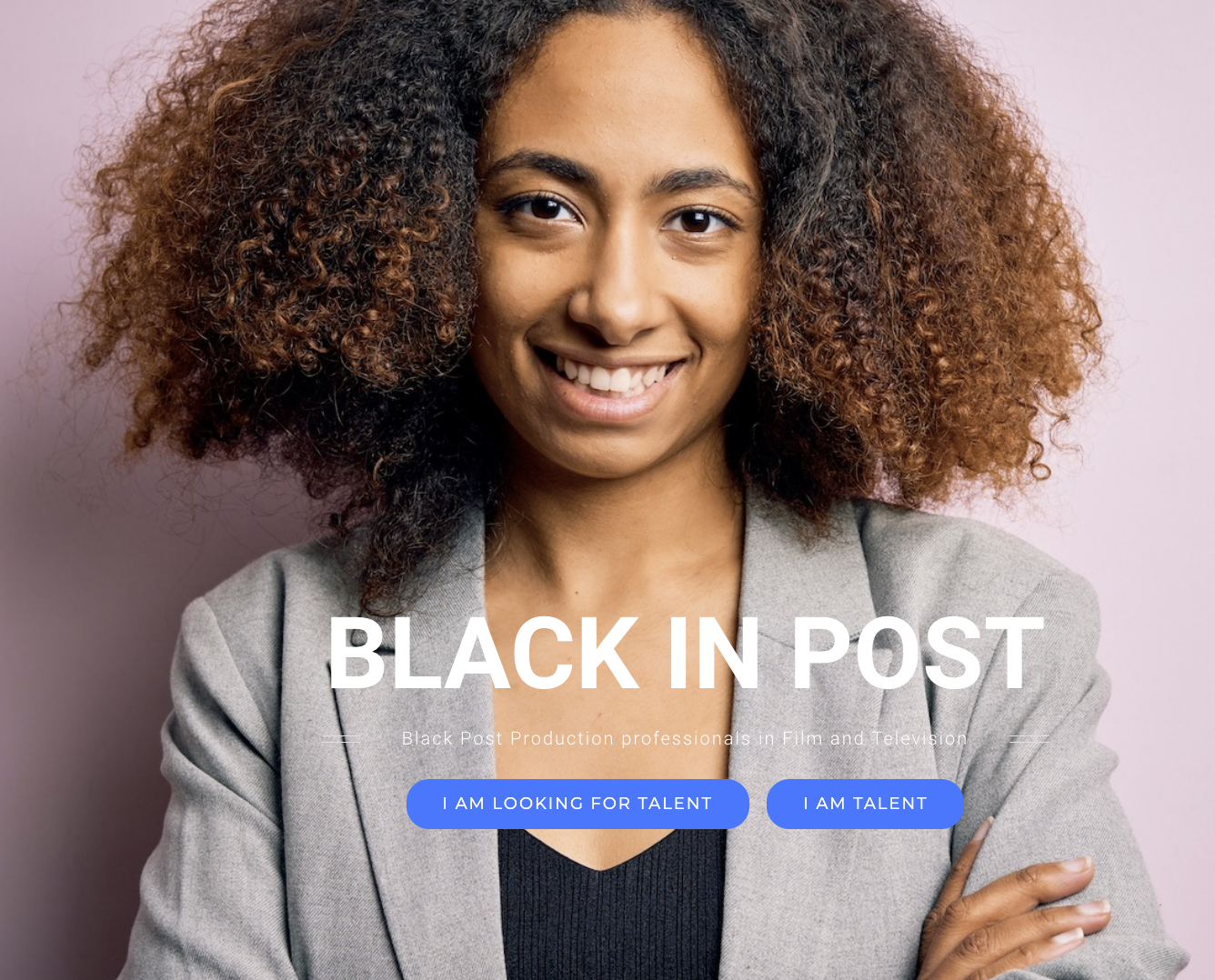 Black in Post is a great place to start if you want to get hired as a PoC in the industry, or find talented Black Post Production professionals to hire.
They also offer opportunities for shadowing, mentorship and resume reviews to enable access to and growth within the industry as much as possible.
Get in touch to be a mentor or mentee!
The Voices section of the site, delivers an eye-opening and heart-crushing selection of anonymous quotes on the day to day experience of working in an industry dominated by white men.
I had worked on a Production for four months and had lengthy conversations with everyone on our crew, especially my EP.

A new Black girl joined the crew. The EP went up to her, thinking it was me, and had a pretty lengthy conversation. She was standing about two feet away from the new girl, who was younger and shorter than me. We look nothing alike. The Post Producer had to tell my EP that it wasn't me.

I didn't move from my bay. I sat there thinking how much harder it would be to get my work noticed, if my EP couldn't even tell me apart from other Black women."


— Anonymous, Black In Post
So remember, we need everyone to cut daily.
Take This Further
---